hello public
guess how many more days to my birthday?
2!!! its this saturday damnit!!! weeeeeeeeeeeeeeee!
and i'm gonna be spending it with so many men. Yippie!!! we're gonna have an orgy!!! i'm gonna strip naked in the middle of the jungle and have a fuckfest with those gigantic moquitoes and get sucked off by the random leeches.
oh what joy. i'm ejaculating with enthusiasm. somebody please restrain me before i bounce off with excitement.
*roll eyes*
the only thing i'm excited about is what to wear to the airport later. i'm deciding on a light grey polo tee paired with dark grey slacks. but dont you think its way too gray? hmm. anyway, i dont have shoes to match!!! aargh! dilemmas dilemmas!!
oh, if you didnt know, i'm leaving for brunei tonight.
anyways,
back to updates....
me and miss mabel(andrew's gf) has been text messaging each other for the past 2 weeks. and no, we're not having an affair.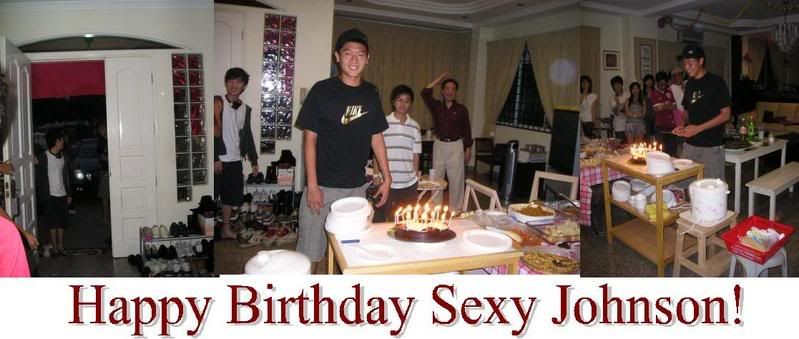 she's been planning a hush hush suprise birthday party for her boyfriend, andrew, and she contacted me to gather his ns buddies for the event. it was difficult enough trying to get people's confirmation on whether they can make it on my side, so you can guess how hard it must have been for her to organise the entire suprise party.
kudos to mrs mabel chng!!! andrew, you better treasure this girl cause obviously she treasures you a lot. invite me to the wedding k!!!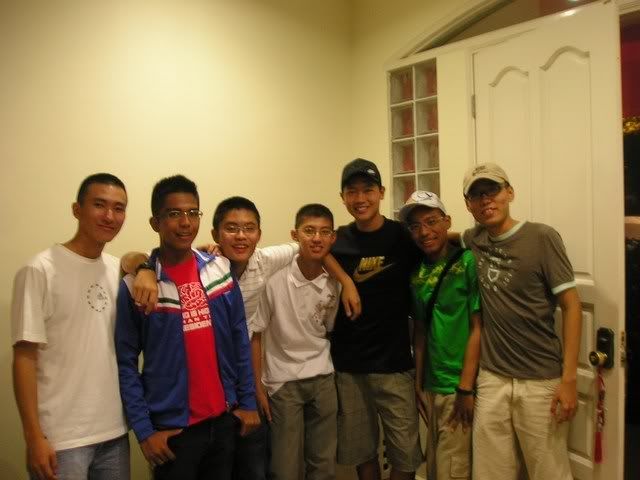 the party was really nice and the food was yummy!
we left ard 9pm where me and wilson decided to hitch a ride from weisheng who's passing by town. the only problem was that weisheng didnt know how to drive to town all the way from east coast(andrew's house). what made it more worst was that he had two dummies in the car who didint know how to read a map. hahaha!!! so we ended driving around getting lost for what seemed like slightly more than an hour. it was actually quite fun!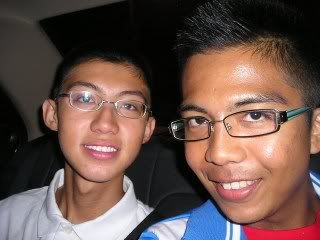 we didnt know how to read the map so we took a photo instead. lol!
oh yeah, earlier in the day when i was waiting for wilson who was late for almost an hour to shop for andrew's present, i finally decided to get that Red Be Delicious fragrance from DKNY. yay!!! finally i smell like an apple. yummy!
dont bite me please.
-----
over the long weekend i've been busy helping mummy to bake cookies for hari raya. and its really quite fun. i bake then i eat. bake and eat and bake and eat. i'm getting a carbo and sugar overdose. i'm gonna grow really really fat and explode!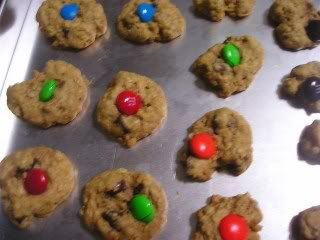 i made this all by myself: m&ms oatmeal cookies. yummy!
well, decided to take a break from the flour and butter and also give my overworked oven a rest. so on monday, i met up with liat and we toured the ultrahyped vivocity. and boy was the place big. it reminded me of shopping centres in malaysia where they had too much land space on hand and didnt know what to do with it so they just made the walkways wider.
well, vivocity to me is just another ngee ann city. a typical shopping centre with all the usual things to expect. but then its not fully opened yet cause its official opening is on december 1st. so thats why there are still shops unopened.
thats its then for this round.
just wanna wish all the Muslims, Selamat Hari Raya!
and the Hindus, Happy Deepavali!
i wont be blogging for the next 3 weeks cause i'll be off to Brunei tonight for my National Safari training. its really a mix of feelings. on one hand, i'm excited cause i've never been to Brunei yet on the other hand i'm sad that i'm gonna be gone for 3 weeks and i'm gonna miss everyone especially my mum.
thank you to everyone for their well wishes. i really appreciate them!
well then, till 3 weeks later...
toodles.